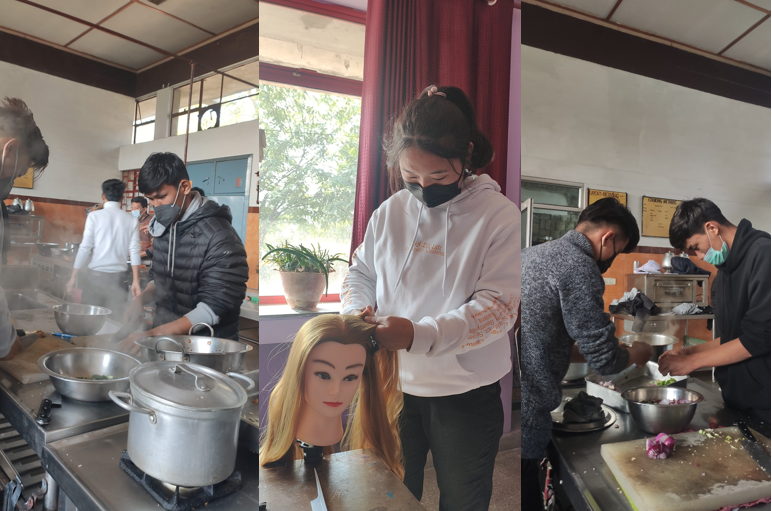 YES BACKGROUND
With the increasing number of school and college dropouts which in a way lead to rising rate of unemployment in our Tibetan community, it was felt necessary to provide vocational employable skills trainings to the unemployed Tibetan youths to make them self-reliant. The ever increasing population of unemployed youths has become a serious issue in the Tibetan community and it is increasingly difficult for the school dropouts to find a decent livelihood without an institutional support. In most of the Tibetan settlements, a large part of workforce remains either idle or not engaging in any meaningful livelihood oriented activities. This situation puts the community at risk from threats of alcoholism, drug abuse, and other socially undesirable activities. It is therefore necessary to provide the unemployed youths with skills training and encourage them to set up small enterprises through micro-credit facility to make them engaged and become contributing member of the community.
The program for addressing issues of unemployed Tibetan youths was initially launched as Promotional Agency for Development of Micro Enterprises (PADME) by the then Planning Council of the Central Tibetan Administration (CTA) in 1997. The responsibility for the management of the program was later given to the Central Tibetan Relief Committee (CTRC) on 7th April 2003 and Youth Empowerment Support (YES) Section came into being as a result.
The main objective of the YES program is to promote gainful employment to the unemployed Tibetan youths in settlements who are school dropouts or have failed to complete their formal education by providing them with relevant skills training and start-up loans for setting up of micro-enterprises in the settlements. Click on the following relevant TABs for more:
Norwegian Church Aid (NCA) has very actively funded skills training and alternative employment generation programs of the CTRC from 1998 to 2016. The YES program is currently being fully supported and funded by U.S. Agency for International Development (USAID) under a program to strengthen self-reliance and resilience of Tibetan communities in south Asia.
SKILLS TRAINING Program:
Every-year, the Department of Home selects a batch of Tibetan youth who are seriously interested in pursuing long term skill training course at TCV administered Tibetan Private Industrial Training Institute (ITI) based in Selakui, Dehradun.
The institute offers Secretarial practice, food production general, bakery and confectionery, food & beverage, spa therapy, basic cosmetology, wire-man, mechanic motor vehicle and carpenter/ technical allied.
The Department of Home will announce the training program opportunity through the settlement offices, official news channel and media. The application will be scrutinized and selection will be done.
The internship, placement, food and hostel facility are also provided.
Trade Types
Skill Training Courses
Qualification (minimum)
TECHNICAL TRADES:
Mechanic (Motor Vehicle)
10th Pass
Wireman
10th Pass
Carpenter & Allied Trade
10th Pass
HOTEL TRADES
Food Production General
10th Pass
Food & Beverage Services
10th Pass
Bakery & Confectionery
10th Pass
SERVICE TRADES
Secretarial Practice
10+2 Pass
Basic Cosmetology / Spa
10 Pass
Note: as per information shown in their site < tibetanprivateiti.com >
o………………………………………………..oOo………………………………………………..o
S.No:
Courses
Training FEE ( ₹ ) (pm x duration)
Fee Payment ( ₹ )
per month
Duration
(Month)
Total Fee
Amount
Department
of Home
Trainee's
Contribution
Total Fee
Amount
1
Secretarial Practice
4,500.00
18 m
81,000.00
63,000.00
18,000.00
81,000.00
2
Basic Cosmetology / Spa
4,500.00
18 m
81,000.00
63,000.00
18,000.00
81,000.00
3
Food Production General
4,500.00
20 m
90,000.00
70,000.00
20,000.00
90,000.00
4
Bakery & Confectionery
4,500.00
20 m
90,000.00
70,000.00
20,000.00
90,000.00
5
Food & Beverage
4,500.00
20 m
90,000.00
70,000.00
20,000.00
90,000.00
6
Wire-Man
4,500.00
27 m
121,500.00
94,500.00
27,000.00
121,500.00
7
Mechanic Motor Vehicle
4,500.00
27 m
121,500.00
94,500.00
27,000.00
121,500.00
8
Carpenter/Technical Allied
4,500.00
27 m
121,500.00
94,500.00
27,000.00
121,500.00
Note: (m) = month; (pm) = per month;
NOTE: Download your Application and Forms from "Downloads" main menu.
TIBETAN CAREER CENTER: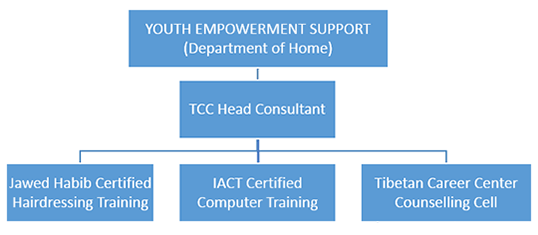 The Organization Structure of TCC Mcleod Ganj, Dharamshala – H.P. India
Current Staffs of Tibetan Career Centre (TCC), Mcleod Ganj:

Ms. Jigme Lhamo
( Head Consultant )

Mr. Jampel Sonam
( Counsellor-cum-
Placement Officer )

Mr. Jampa Ngodup
( Computer Teacher )

Mr. Tashi Samdup
( Hairstyling Teacher )
---
CONTACT Address:
Tibetan Career Centre,
Old Reception Center,
Jogiwara Road.,
P.O. Mcleod Ganj – 176219,
Dharamshala, Distt. Kangra,
Himachal Pradesh
e-mail:
[email protected]
Mob: +91 7807117447
---
TIBETAN CAREER CENTER (TCC)
Location: Old Reception Center, Mcleod Ganj, Jogiwara Road, Dharamshala:
Career Awareness Program (CAP): An individual and group counseling is provided to Tibetan youth (school/college dropouts, unemployed) on a daily basis at the center. In addition, parental counseling is also provided to the parents on how to nurture and support their kids. Head consultant and counsellor also visits more than 15 Tibetan settlement every year to create awareness about the career, opportunities, and vocational training institutes and also provides counselling as and when required. The TCC also disseminates information about the various job opportunities and vocational training opportunities available in our community.
Counselling program: Counselling program is designed to provide counselling support to Tibetan youth especially those unemployed. TCC also attends counselling queries and provides counselling support to the Tibetan youth virtually by phone calls, emails, or through social media. In-person counselling support is also provided at the center itself.
Placement support: A college graduate can approach TCC for any job related help and assistance. TCC also provides placement support to those young people looking for job by matching their skill with the potential employer.

The 4-month introductory Jawed Habib certified hairdressing-training program is part of a larger initiative of the Tibetan Career Center to reduce unemployment among young Tibetans in exile. The certification is done under the Jawed Habib Foundations.
The center provides following computer training programs to the youth under the certification of institute for advanced computer technology (IACT):


Basic Computer Course; (BCC)
Adobe Illustrator;
Adobe In-Design;
Adobe Photoshop.

Mentoring as an essential part of professional growth and development is considered to be lacking in the community. Unlike counseling and consultation that focuses on an immediate assistance, the mentoring program is designed to provide a hand-holding guidance & continued support to the selective group of people either from TCC trainees or from any other industrial training or vocational training center right from the beginning of their career until they advance in their profession.
OTHER TRAINING PROGRAM AT TCC:
Youth Motivational Program: The youth motivational talk (YMT) is designed to expose Tibetan youth to different conventional and unconventional professions where the resource person shares a story of his/her experience, life struggle and journey. The theme of YMT program is "Sharing stories and multiplying hopes" as it seeks to inspire and motivate the youth to pursue their dream.
Employability Skill Development (ESD): Employability Skill Development seeks to develop and enhance the employable skill of the Tibetan youth though organizing short terms training and workshop on resume writing, cover letter, communication skill, presentation skill, ethics, non-violent communication, interview skill, conflict resolution, leadership development, and various other soft skill.
Accounting Tally Program: Tibetan students with the educational background in commerce can also pursue one-month Tally (accounting) Course and this course will be useful to those aspiring to become accountant or finance officer. The selection for this tally course will solely be based on whether the applicant is aspiring to become an accountant/ finance officer or has a commerce background. This employability skill training will increase their job competitiveness in the market and increase their efficiency at the workplace
Photography training: TCC also provides a one month photography course by inviting a professional photographer as a trainer. The photography course is also amongst one of the highly demanded and inquired courses at the center. The photography course will enable the interested youth to learn about the photography skill to pursue their interest. This course generally aims to engage youth in a fruitful way and will also be beneficial to those interested in opening a photo studio and taking job as a freelancer photographer. The photography training will be scheduled twice a year and includes both theory and excursions in order to provide understanding of the theoretical knowledge and practical experience. At the end of the program, the best photo will be selected and felicitated after a competition among the trainees is held.
Youth Empowerment Workshop: Youth Empowerment Workshop is intended to provide an opportunity to youth especially unemployed to develop a life plan and career choice. The participant will receive the training on life fundamentals & priorities, career options, goal setting, self-discovery, finding direction, problem management, decision making, motivational session and etc. At the end of the training program, all the participants will be closely guided and mentored to develop an individual & customized life plan. The trainer and resource person are invited and a series of motivational talk are also arranged. The career assessment will also be conducted.
---
Ex-Staffs of TCC, McLeod Ganj:

Mr. Tenzin Gelek
( Head Consultant )

Ms. Namshey
( Head Consultant )

Mr. Tenzin Migmar
( Head Consultant )

Ms. Tenzin Choezin
( Head Consultant )

Mr. Dawa Paljor
( Computer Teacher )

Ms. Jigme Dhamdol
( Counsellor )

Mr. Penpa
( Counsellor )

Ms. Tenzin Migmar
( Counsellor )

Mrs. Tsering Choezom
( Computer Teacher )

Mr. Topgyal
( Mentor )

Mr. Tenzin Migmar
( Computer Teacher )
SKILLS TRAINING SCHOLARSHIP:
The Department of Home has formulated a skill training scholarship guidelines and this particular program is implemented as per the guideline. The skill training scholarship aims to make Tibetan youth a self-reliant by providing financial support to the youth to pursue skill training program.
YES skill training scholarship provides an opportunity to the interested youth to choose his/her preferred training course at anywhere in India. Tibetan youth from India, Nepal and Bhutan can apply for this opportunity through their respective settlement office.
The following are a few of the important highlight of this scholarship program:
The applicant can choose his/her preferred training course at anywhere in India.
There is no qualification bar on putting up the application.
The age bar is 18-45.
The applicants has to look for and get admitted into any training institute in India by themselves.
The preferred course and their eligibilities should not correspond to the one offered through our existing training program.
The applicant can get a scholarship up to INR 90,000/-
The skill training program the detailed scholarship guideline is circulated to the settlement office at the time of the announcement. NOTE: You can download Application forms from "DOWNLOAD" main menu
YOUTH AMBASSADOR AWARD:
The first ever workforce development meeting, where 19 representative from 16 different institution based in 9 different location in India and one in Nepal convened from 11th to 12th May 2018, recommended need to have a separate program to recognize the exemplary youth who have dropped out from school and university and currently engaged in self-employment or employment after completing skill training course from any of the vocational training institutes.
The Youth Ambassador Award is designed to recognize those youth who have successfully become a self-reliant after pursing skill training and it also encourage the youth to become self-reliant through vocational education.
Every year, the Department of Home will award two individual who have not only become self-reliant but also contributing to the overall growth of the community and whose story can encourage and motivate other youth to follow the suit.
The announcement will be made through the settlement office and other official channels. The applicant shortlisted by each settlement will be scrutinized at the head office and will be selected accordingly. The award will be presented at the official function of CTA to celebrate Tibetan Democracy Day on 2nd September, in Dharamshala.
This program is implemented as per the Youth Ambassador Award guidelines formulated by Kashag.
Apart from the above major programs, Youth Empowerment Support (YES) section of Department of Home, implements few other program like motor driving training, capacity building program for representatives of the training institutes, marketing & awareness program, publication and production related program and few other program at Dharamsala and in the settlement around India, Nepal and Bhutan.
MICRO-CREDIT Program:
Aim: The aim is to provide working capital to the unemployed and potential Tibetan youth to start their own Micro enterprises to earn livelihood and to make them self-reliant.
Priorities are given to those who have undergone skill training and looking forward to setting up the same enterprise within their own settlement or around the settlement.
Announcement:  Youth Empowerment Support (YES) section of the Department of Home (DoH), Central Tibetan Administration (CTA) announce this program through the settlement offices every year. The interested can contact the nearest settlement office and submit the application through them.
Micro Credit amount: The micro credit loan program is implemented as per the guidelines formulated by the Kashag (Cabinet). The ceiling for the micro-credit is set at
₹ 100,000/- for an individual enterprise,
₹ 300,000/- for a partnership of 2 or more, and
₹ 500,000/- for a partnership of 3 or more.
Duration: The loan duration is up to 3 years and can be extended to 5 years depending on the nature of the business.
Age: The age limit is 18-50.
---
Visit "DOWNLOADS" main menu for Loan application & forms.
Y E S    R E V O L V I N G    L O A N    S T A T U S
S.No:
Settlements
Amt Disbursed
Cleared
Clearing
Default (If any)
Total
1
Choephelling, Miao
99,000.00
1
–
–
1
2
Dekyiling, (Clementown)
3,00,000.00
3
–
–
3
3
TSO Dharamshala, H.P.
6,05,000.00
4
–

2

6
4
Dhondenling, Kollegal
24,12,238.36
22
3
–
25
5
Dickyi Larsoe, Bylakuppe
32,38,349.00
23
2
–
25
6
Doeguling, Mundgod
18,57,965.48
21
–
–
21
7
TSO Kamrao (2019-20), H.P.
13,00,000.00
–
10
–
10
8
Kunphenling, Ravangla
13,00,000.00
1
9
–
10
9
Lugsung Samdupling, Bylakuppe
30,46,227.00
16
4

2

22
10
Norgyeling, Bandhara
7,90,400.00
7
–
–
7
11
Paonta Choelsum, Paonta Sahib
1,00,000.00
1
–
–
1
12
Phendeling, Mainpat
33,00,000.00
21
9
–
30
13
Phuntsokling, Odisha
36,03,000.00
30
–
–
30
14
Rabgyeling, Hunsur
11,63,751.12
10
1
–
11
15
Sakya Tibetan Society, Puruwala
1,56,510.00
2
–
–
2
16
Sonamling, Ladakh
13,200,000.00
96
34
–
130
17
TSO Mandi, Mandi
100,000.00
–
–

1

1
18
Bir Beotsok (BTS)
600,000.00
–
6
–
6
Total
3,71,72,440.96
258
78
5
341
Individuals (1 x 224) >
224
Groups in 2s (2 x 27) >
54
Groups in 3s (3 x 21) >
63
341
Note: The above details are as of 31st March 2022