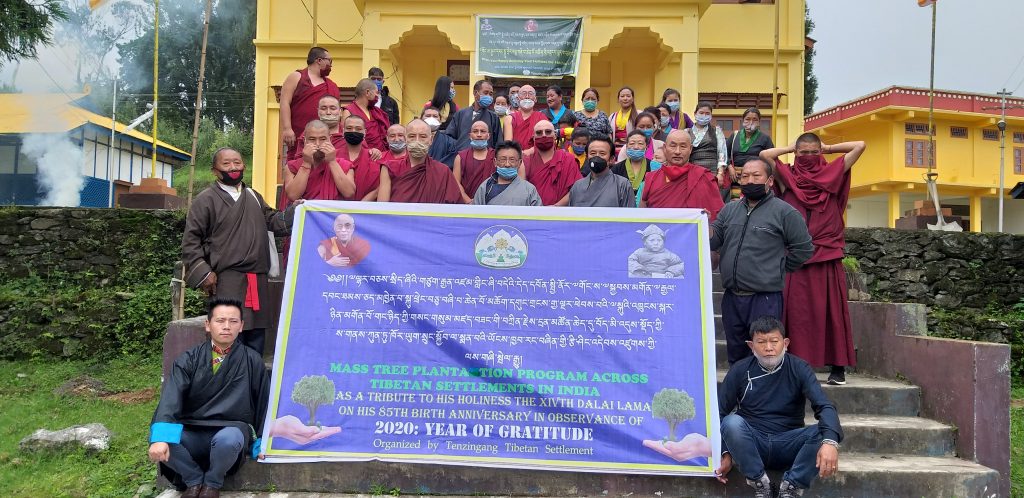 Agriculture section:
Nearly 60% of Tibetans in exile live in Agricultural settlements in India, Nepal and Bhutan. Before 1996 there was no separate division/section which looks after the agriculture and allied activities in the settlements. And there was decline in agriculture outputs, which lead to the decline in income of the farmers. Slowly, they were losing interest in farming.
So, the Central Tibetan Administration felt necessary to have Agriculture Division/Section within the Department of Home. In 1996, the Central Tibetan Administration formally instituted Agriculture Division within the Department of Home with one senior staff (Joint Secretary). In 1998, one more staff was appointed to assist. In 2001, the Department appointed 12 Agriculture Extension Officers (AEO) in 12 major Agriculture Settlements in India.
The Agriculture Division has two sections:
Agriculture section: སོ་ནམ་ལས་གཞི་ཚན་པ།
Cooperative Section: མཉམ་འབྲེལ་རོགས་སྐྱོར་ཚན་པ།
Since the establishment of Agriculture Division, the Division has been looking after the affairs of Agriculture and allied activities in Settlements. The Division has spared no effort in executing various agricultural and allied projects through the support from both Government and non-governmental organization and individuals.
Looking back into the past few decades of Tibetan exiled life, we can clearly see that Agriculture Division was quite successful to a great extent in establishing Tibetan settlements sustainable and in helping the farmers achieve rapid improvement in their source of livelihood. Of the 125642 number of Tibetan population concentrated in 56 settlements; 24 settlements are predominantly agricultural base while 14 and 18 settlements are dependent on handicraft and small scale business venture respectively. It's been DoH's biggest responsibility to look after the welfare of these settlements.
Agriculture division following below processes to take Tibetan agriculture out of stagnation and decline :
Transform from Small-holdings Low-tech to Collective-large holding High-tech Mechanized Agriculture
Transform Tibetan Agriculture from Farm Production to Agribusiness Model
Transform Tibetan Agriculture using 3 P's-Privatization, Partnering, and Professionalism
A. Interventions are being carried out by Agricultural Section
For the welfare and to look after the interest of full-time farmers, DoH felt the need of an agricultural division and founded one in the year 1996. And to ensure efficiency in all the farming related works, it was strongly felt to have at least one agriculture extension officer in each settlement. To this end, 19 enthusiastic youths from the farming settlements were selected and were sent to V.C Farm, Mandya in Karnataka State which is managed by University of Agriculture Science, Bangalore for four-month long training on theoretical and practical session on farming related topics includes 'Animal rearing' and 'soil and water conservation' in 1998. The training proved quite successful and the trainees have been serving as agriculture extension officer at their respective settlements.
MoU with University of Agriculture Science Bangalore:
To promote further the farming activities at the settlements, teams of scientist in different field from UAS Bangalore were invited to visit our settlements in the south in June 1999 to know all the problems faced by the farmers. And to guide them as to how to overcome the problems, the resource people gave demonstration and trial on farming. The farmers have reaped the benefits from output of their service.
Training and field exposure trip to AEO and farmers:
Through the series of training and workshop organized by agriculture division of Department of Home, the trainees have gained wide experiences including participation in workshop, training given by experts and resource people from organic background, and visit to organic field for spot observation. As a result, they are now no stranger to ways of preventing diseases to crops and grains, ideal methods of cultivating both horticulture crop and agro forestry, conservation of soil and water, rearing cattle and above all, various methods of making compost. The farmers in these settlements can now boast of being competent enough at their job and are self-reliant on technical knowledge.
Awareness training on organic farming for the farmers:
Given the impressive result the farmers have achieved from training, workshop, guidance from resource people and opportunities to observe many experienced organic farmers at work, we have been making relentless effort towards promoting the significance of organic and educating the people even further all the vital activities involved in this practice.
Soon after coming into exile in India, Tibetan farmers too came under the influence of Green Revolution that had just taken roots in India. People began using chemicals in farming on large scale, oblivious of the long term negative ramification of its use. After a few decades of using fertilizers excessively, people began to feel the negative impact in their lives. With the soil fertility steadily declining and sources of drinking water becoming unfit for human consumption and, above all, drastic change in the atmospheric condition resulting in all kinds of natural calamities, large number of farmers have already abandoned using chemical in farming and, have switched to and have registered consistent rise in the number of farmers taking up organic for one's own benefit as well as to the world at large.
Over 60% of the Tibetan exile population in India are concentrated in settlement whose primary occupation is farming. In order to ensure sustainability in this farming occupation, the Central Tibetan Administration made an announcement in the meeting of members of parliament session, of its policy unanimously adopted in early 2002.
Long and short term goals and objectives of Organic Farming are as follows:
1)   To promote sustainable agriculture and create awareness on the need to conserve natural resources and traditional knowledge systems.
2)  Minimizing the exorbitant expenditure on seed and fertilizer by using the output from their own field as seed.
3)  Constant encouragement to the farmers to practice organic and promote our activities towards food security.
4)  Restoration of soil fertility.
5)  To achieve self-reliance by improving the yield both in terms of quantity and quality.
6)   With further advancement in the farming, create farming sector jobs for unemployed youths and check mass exodus for lucrative jobs.
7)   Based on soil and weather condition of the respective settlements, to conduct on-farm research and standardize sustainable agriculture practices.
8)   To disseminate information, research outcome, knowledge and thought on sustainable agriculture and natural resource management through publications and audio/visual materials.
9)  To facilitate procurement, marketing and sales of organically produced products.
Organic farming movements in agricultural based Tibetan settlement in exile:
Since the policy on the organic farming initiative adopted by CTA, the DOH in collaboration with COSPE, the key supporter in their joint effort to transform Tibetan farmers in settlements gradually into organic farming and make this practice sustainable, began a four-year sustainable agriculture development project by getting approximately 20 acres of land each from every Tibetan settlements into organic farming on a pilot program from the year 2004 through 2008. After Kollegal as a model organic settlement in 2005, most of the settlements followed suit. From the total farming area of 26608 acres in 12 settlements, 11% have already been converted into organic farming today. We expect steady and consistent rise in this conversion in the years to come.
Publication of manuals on organic farming practices:
Along with trainings at intermittent interval, a comprehensive manual on organic was published and updated information on it were disseminated through various publication from time to time to keep the farmers abreast of the technical know-how on organic. Following are some of the important publications published by Agriculture Division are:
1) 10 steps towards organic
2) Crop rotation in organic
3) A Hand book of Organic farming
4) Manual on management of pests and diseases under organic farming
5) Bio-dynamic Techniques
Since the conversion of "Tibetan Farm Project "consisting of 86 acres plot of land in the vicinity of Sera monastery into 'Organic Research and Training Centre in the year 2007, infrastructure such as training hall and rooms for trainees have been facilitated in order to give full fletch training on organic farming for the farmer and agriculture extensionist. The centre has successfully organized training and demonstration on compost making, pest control for crops and, through the research done on cultivating various types of crops, offers guidance to farmers on the most ideal methods of cultivation of crops as well.  In a nutshell, all the observations and experiences from the research conducted by this centre is passed on to the farmers for improvement in their productivity.
In the year 2002, a test was carried out to find out the water table in the settlements. Unfortunately, the report stated that water table was found to be far too low both for drinking and agricultural purpose. So, a drive to conserve water was initiated in all the settlements by making ditches at many places around fields to collect rain water. Thus, the water percolates down the soil and increases the water table.
As for checking erosion, bunds are raised on the edge of field. This strategy proves to be a boon for the settlers.
High quality grain for seed is considered as one of the most important requirements for farmers. Over the time, the farmers gradually stopped using their indigenous natural seeds and began using hybrid seeds instead; for they were given to understand by some business people in the interest of the latter's gain that the hybrid seeds can bring higher yields. Thus, the original and indigenous seed were made to disappear and the farmers have been made to depend completely on seeds from market. A proportion of farmers' income is invested on procuring seeds and chemical fertilizers from the market, leaving the farmers in despair and dependent all the more.
Hence, to get over this problem, the farmers have been encouraged to use indigenous and local seeds and rendered all possible support and facilities for retaining seed grains for the next crop. The farmers have benefitted tremendously from using indigenous seeds preserved from their own crops.
The biggest challenge that confronted the farmers is to restore the soil fertility because the farmers suffered not only loss of their soil fertility but had also experienced steady decline in the yield from their crops. To begin with this transition to organic from chemical farming, specimens of soils were collected and test was carried out. Based on the report of the test, compost manure was used on large scale in areas of highly depleted soil fertility to restore the fertility. Such plans are pursued in Tibetan Settlements after every three years.
Biodiversity cropping pattern is one of the important concept under organic farming, which will help to preserve environment and also fetch extra income for the farmer by selling their fruit tree crop. Based on soil and climate condition of the respective settlement, we have focus horticulture crop like mango, sapota, guava and lemon etc., in those farmers field where they can protect and irrigate watering during dry period and agro forestry tree are planted on the hedges of the surrounding area and waste land to preserve soil and water.
Several natural plant species provide nectar and pollen to honey bees and its help great extend to pollinating the crop for better production. Thus, the raw material for production of honey is available free from nature. Bee hives neither demand additional land space nor do they compete with agriculture or animal husbandry for any input. The beekeeper needs only to spare a few hours in a week to look after his bee colonies. Beekeeping is therefore ideally suited to him as a part-time occupation. Beekeeping constitutes a resource of sustainable income generation to the rural and tribal farmers. It provides them valuable nutrition in the form of honey, protein rich pollen and brood. Bee products also constitute important ingredients of folk and traditional medicine. In few area where we promote and encouraged to rearing bee keeping.
We have provided some of the basic requirements such as different form of structure for preparing compost; plastic drum container for preparation and storing liquid manure and bio pesticide prepared from plants that helps protect crop from diseases and pest ; container for storing seeds; sprayer for bio-pesticides; structure for making fodder Azolla, and above all, mass production of compost and vermicompost unit are established at respective settlement to supply sufficient organic manure for the crop raise by farmer.  Hut is built in respective settlements to organize trainings for the farmers.
As the farmers are totally dependent on monsoon which is unpredictable, the farmers must be well-equipped to begin ploughing soon after the rainy season sets in. To help them get the land ready for cultivation quickly, tractors with all the necessary implements such as disc plough, tiller, harrow, cultivator, weed cutter, seed driller, power tiller and country plough implement have been purchased for the farmers through the fund from DoH and especially tractor and its implement are purchased and given to local Tibetan cooperative society for further management and service to farmer. These facilities have not only saved them great deal of time but have also minimized the workload.
It goes without saying that farming and cattle rearing always go hand in hand. Compost is backbone of the organic farming without applying sufficient compost it is hardly to get output return. In order to have sustainable farmer we are encouraging them to rear minimum one native breed of cattle per acre which can use cow dung and urine to make compost and besides for the local community here livestock plays a major role in their agricultural economy, culture and traditions. However, those of the settlements where there is no state-run milk cooperative service to purchase milk, we have provided them bulk milk cooler machine, deep freezer, milk analyzer, butter Chunnel, cream separator, milk can, lactometer and 3 wheeler for milk collection and transportation so that the farmers get boost to their morale and this occupation thrives.
Since a large portion of the produce from the farmers' field are used for self-consumption; they undergo a lot of difficulties and trouble going to the mill at the nearest town. To ease the problems and to protect the interest of the farmers, different food processors such as rice mill, flour mill, oil extract mill, paddy harvester, paddy thresher, corn sheller, millet de-stoner, de-hosting & polishing machine, dal pilling and splitting machine for various purposes have been installed within the villages with the financial support from department of Home.. The machines have proved to be a great boon to the residents of the settlements.
Taking into consideration the erratic power supply, the settlements have been provided with various solar generated power such as solar home light & street light and solar water pump for irrigation and wind mill for pumping drinking water and bio-gas for cooking purpose and these all project is to combat the power problems.
The arrangement that the CTA made to send 40 to 60 young enthusiastic Tibetan boys and girls from agricultural background, to Israel for practical training on agricultural practice. Besides training, the boys and girls also earn a little money from working there, which helps to support their respective family financially. The knowledge and experience obtained throughout the program is passed on to the farmers back in second home.
From 1998-2014, 659 Tibetan students have immensely benefited from the learning by doing program individually on the agricultural technical know-how, lifestyle and overall the improvement of socio-economic condition of the Tibetan community.
In 2014 due to one of the criteria/requirement from Israel Government for the trainees, since, we could not meet the requirement the program was cancelled in the year 2014. As per Arava International Center for Agriculture Training (AICAT), Israel Director, informed that "new regulations from the governmental offices in Israel that allowed us to recruit only students from agricultural universities. The student profile is not qualified and for this reason we have to stop the common project".
AGRICULTURE'S ISRAEL TRAINING DETAILS:
OISCA Japan Agriculture Training Program
---
On request from DoH, CTA to the concerned organization in Japan, two seats are reserved every year for two eligible young Tibetans from India to study on Industry, Agriculture, diary and Japanese language. Since the inception of this study program in 1992, two young Tibetans have been going to Japan every year to avail this study program. Through this program, many young Tibetans have got opportunity to study and they have made considerable contribution to the Tibetan community.
It would not be an exaggeration to say that people all over the world is experiencing the rapid climatic change due to global warming. Farmers are bearing the brunt of this change. Since Tibetan farmers are completely dependent on monsoon which is, nowadays quite unpredictable, they are susceptible to frequent crop failure either on account of drought or excess rainfall. To look after the welfare of our people adversely affected by crop failure, DOH a relief fund allocated for the settlement like Mundgod in year 2001, 2002, 2010, Hunsur 2002, Ladakh 2006, 2008, 2010, Miao in year 2007, 2009, Tezu 2009, Tenzingang Bomdila 2007, 2008 and Kollegal 2006, 2007 and 2008.
Although the DoH adopted the organic policy with a vision to be able to make the farmers self-reliant and to produce all their needs, this is not practical approach because the quality of soil and climate of the particular area support only the growth of a few selected types of crops. There may be many factors attributable to the insufficient output. However, we can certainly achieve progress in the output once the scarcity of water problem is tackled by way of irrigation and harvesting rainwater.
Another urgent problem that needs to be addressed and about which the farmers repeatedly requested for solution is marketing infrastructure. With easy access for marketing the surplus produce from the yield, the farmers can be greatly benefited. Therefore, to gain due recognition for their produce in the market, IMO Control Pvt Ltd, Bangalore which deputed its people to organic fields to find out the total areas under organic. Since 2006, the farmers' outputs have been found to be up to the level of standard certified organic products. Currently, over 2000 acres and 450 farmers are registered under the organic certification.
Market for organic produce
After being registered under the organic certification, an exclusive retail outlet for organic produce from Tibetan settlements was established in Bangalore where the organic consumers was potentially expected to be high and the organic merchandise can fetch premium price. Unfortunately, this initiative was not very successful and the shop had to be closed due to unfavorable site and exorbitant rent on house. However, unrelenting on this venture, the outlet was moved to Doeguling Tibetan Settlement where it is run successfully under direct supervision of settlement officer and agriculture extension officers, day to day management was undertake by locally appointed organic committee.  The local farmers are greatly relieved to find easy market access for their surplus outputs. This facility helps to give new momentum to their organic project. From day one, we have explored every avenue to reinforce our effort to promote awareness on organic activities. Some of the organic produces available at our outlet for sale are as follows:
Rice: Sona masuri, Gandhasale, Angur Sona, Basbhuta, Vandhana, Halti, and Duggiga is a popular variety of coastal area in south India.
Ragi: Finger millet, pearl millet, fox tail millet, little millet, kodo millet,
Jowar: Local and traditional varieties of the particular region.
Pluses: Red gram(tor), Field beans (avarika), cow pea(thatnikal), green gram, black gram and rajma.
Oil seed: mustard, ground nut, sun flower, sesame and soybean.
Fruits: Mango, Sapota, Guava, Jack fruit, lemon, papaya and banana.
Spices: Black pepper, chilly, cardamom and coriander.
Medicinal & aromatic plant: Lemon grass, citronella, ginger, turmeric, Brahmin, tulsi, aloe vera, Stevie, aswaghandha, asparagus, adhothoda, mint, chakramuni (multi vitamin plant) and hibiscus.
Other crop: betel nut, coconut, Wide varieties of seasonal vegetables
You are what you eat:
Sharing concerns on health and ecology. The green Revolution turned out food in plenty over the past decades. The outcome is now in question. Chemical farming practices have been proven to cause increase in varieties of diseases, depletion of soil productivity etc., raising concerns about health and ecology. These issues are being attended to urgently by Department of Home-CTA agriculture division in the direction of organic farming.
Organic food is man's natural diet, the best suited to our nutritional needs. Organic farming practices are the natural way to protect the environment. An organic lifestyle will help improve physical health, emotional and mental well-being and the plant.
The organic food sector is strictly controlled and regulated by officially recognized organic certification authorities who ensure a full audit from farm to table.
B. Special interventions are being carried out by Agricultural section
The central nursery project is a first and necessary step that will enable the implementation of this large project and supply Exotic planting material grafted on to local hardy root stocks . The project based in ORTC Bylakuppe, will be a JV with KBJ Agro providing the technology and international germplasm that will ensure supply of high quality seedling supply to establish large scale high value citrus plantations in the Tibetan settlements. Marketing of seedlings is also envisaged as revenue stream for the nursery unit. It is envisaged that the capacity of the project will be 12,000 plants in first year and will go up to 48,000 plants in year three.
The timely and relevant extension services play a crucial role in promoting agricultural productivity & improving livelihoods of the farmers. PADMA is a technology based agriculture app for specially made for Tibetan farmers which helps them take critical decisions in their farming business to increase profitability. PADMA helping farmers to treat his plot as a factory.
Padma App provides a timely service with the creation of a detailed-computerized farmer database by settlement thus allowing easy traceability of every farm. Through the app, farmers can obtain advises from experts on selected issues like crop care, agronomy and problem-solving. The ICT centre will communicate with farmer and farmer will communicate with the ICT digitally through the app as well as mobile phone. Strategic tie-ups with local crop experts/ agriculture universities experts that will provide advise through the ICT systems on selected issues like crop alert, agronomy and problem solving.
The project involves converting the largely abandoned farm lands  due to the chronic elephant menace in the southern settlement of Hunsur  into a large scale jatropha plantation of 200 acres which will be expanded subsequently. Jatropha is a hardy crop that elephants do not eat and only needs to be protected in the initial years. The project includes an oil extraction plant that will be established in two year after the plantation matured. The project is planned differently from the initial concepts of Jatropha being cultivated on dry lands. This project is using the best germplasm available in this part of the world, hybrid seedlings as well as clones of highest yielders that will be cultivated under irrigation.
Department of Home, Agriculture Section is establishing a mini tea leaf processing enterprise in collaboration with other Miao settlement stakeholders, in particular the local Tibetan Cooperative Society. The study recommends a processing unit that can absorb tea production from 250 to 500 acres with an annual production of 75,000 kgs of made tea. TEA MECH, a manufacturer based in Kolkata is implementing the factory project, and has been identified as a partner to oversee initial operations. Expected outcomes are significantly increased income for tea farming households, employment for tea processing employees, and potentially a new revenue stream for the CTA.
Fruits and vegetables grown in the Mundgod settlements are being sold at distress prices more often than not. There is no alternative buyer at the settlement level, the farmers sell the produce thru pre-harvest contracts to middlemen. The Agriculture Division identified the need of Integrated Pack-house & Cold Store for welfare of the farmers. The proposed project is geared to setting up an integrated pack-house that can aggregate the produce of the Tibetan farmers and pack it into market ready product of high standards in a modern pack house. The pack house project will guide the farmers in right cultivation practices and correct harvest and procure the produce of the farmers, wash, grade and pack in consumer packs and sell to supermarkets buyers. It is expected that farmers can be get about 1.5 to 2 X the current prices.
Words of appreciation:
With due respect to His Holiness the Dalai Lama's vision to evolve our lifestyle in the interest of the our fragile environment and to protect all forms of life at large, we have consistently pursue our efforts to discourage the use of chemical fertilizers and gradually integrate organic practice in our culture. Therefore, it is our moral and social responsibility to act wisely and avoiding any harm on nature will be greatly appreciated.
Anyone interested in any of the above mentioned activities we are engaged in or is desirous of supporting our project may contact us at the following address.
Department of Home –
Central Tibetan Administration, CTA
Agriculture Division,  Gangchen Kyishong,
Dharamsala – 176215 District Kangra, H.P
Phone:  +91 1892  222412, 222214, 229230
Fax:   +91 1892  225065 ;
Email: [email protected], [email protected] ;
Website :  www.tibet.net