This division consist of the following sections:
---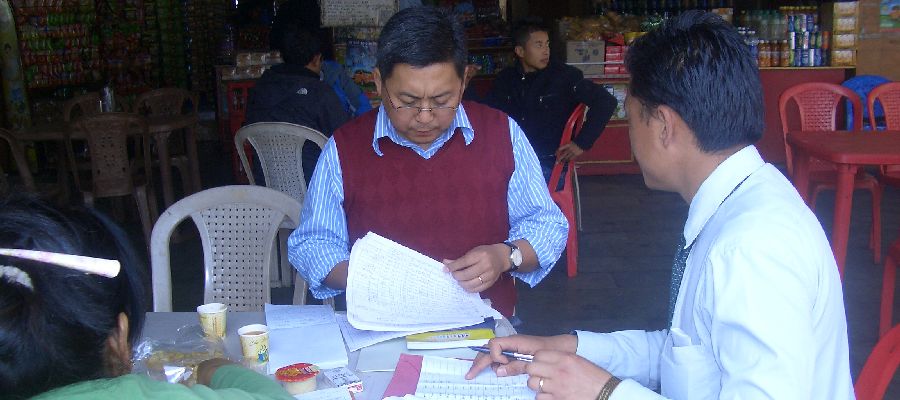 I – WELFARE Section:
Background:
This section had only one staff earlier in 1976 to look after the social and economic welfare of Tibetan people in exile. Due to the subsequent growth in the number of destitute Tibetan person in exile and immediately after the advocacy of H.H. The Dalai Lama on the said matter in 1994, a committee was formed by the Kashag secretariat to survey all Tibetan settlements in India, Nepal and Bhutan to thoroughly scrutinize the living condition of Tibetan families. The committee comprised of members from three main Departments i.e. Department of Home, Department of Education and Department of Health. Consequently the in the year 1997, this section have been separately founded with 02 staff to look after the destitute elders. Thus over the period of time, 14 elder care homes have been founded which are looked after by this section and different programs have been carried out. At present there are 07 staff employed in this section.
With a view to achieving a holistic development, the committee formed with representatives from three main departments dealing with the welfare, health and education of the people, i.e Department of Home, Department of Education and Department of Health.
The CTRC/Department of Home, CTA has since been implementing poverty alleviation initiatives in Tibetan settlements across India, Nepal and Bhutan.
The works carried out by this section are as under:
Poverty Alleviation Initiative: For the social and economic welfare of Tibetan people in exile, 02 staff are employed to field survey all the Tibetan settlements in India, Nepal and Bhutan. The compiled report of destitute families found during the survey will be submitted to Central Poverty Steering and Alleviation Committee (CPSAC). After thoroughly examining the report, this committee further puts up this report to Kashag for approval. The destitute families approved by CPSAC will be categorized in three categories as under:
Old age (65+ years of age) destitute with ill health who are cared under the Department of Home initiatives.
Families with large number of children who are cared under the Department of Education initiatives.
Youth disabled by diseases who are cared under the Department of Health initiatives.
Adopt a granny and granddad program: This is an outreach program where we help our granny and granddad to find a sponsor who supports them by giving monthly stipend. This program has been very successful in reaching out to several thousands of destitute elders or ones whose family are not capable of taking care of their elder folks on account of dire circumstances.a total of 1381 elderlies are covered in adopt a granny and granddad program and poverty alleviation scheme.
Poverty Alleviation Scheme: The destitute elderlies who are not covered under the adopt a granny and granddad program are given interim relief from this project. Emergency relief has been provided to the families who suffer from unnatural calamities. Presently under the Poverty Alleviation Program, we have nearly 450 destitution elders, 268 youth disabled diseases and 295 families with large number if children. Apart from the above figure, there are 106 ex-army stipend for leaders has been increased rs 1000/- for the elders who have family and 1500/- to 7000/- to those who are single without family according to their age. The details of stipend are:
| | | | |
| --- | --- | --- | --- |
| S. NO. | AGE | No. of Elders | ₹ Per Month |
| 1 | 60-64 | 75 | 1,500.00 |
| 2 | 65-70 | 22 | 2,000.00 |
| 3 | 71-75 | 14 | 2,500.00 |
| 4 | 76-79 | 32 | 3,000.00 |
| 5 | 80-85 | 52 | 5,000.00 |
| 6 | 86-90 | 17 | 6,000.00 |
| 7 | 90- above | 13 | 7,000.00 |
Elder Care Homes: the central Tibetan administration (CTA) with the sympathetic help an support of sponsors has raised care homes for elders popularly known as Old People's Home (OPH) in India and Nepal. one of the primary responsibilities of central Tibetan relief committee CTRC, Department of Home, is to take care of genuinely poor and destitute elders who haven o one to take care of them. In carrying out this responsibility, at present we have over 14 old people's home built in various Tibetan settlements in India and one in Nepal. Presently we are accommodating nearly 545 elders. It's our top priority to create a homely environment and a place as much comfortable as a real home for our elders. Residents are provided with one room shared by two inmates with daily nutritional food, clothing and medical facilities.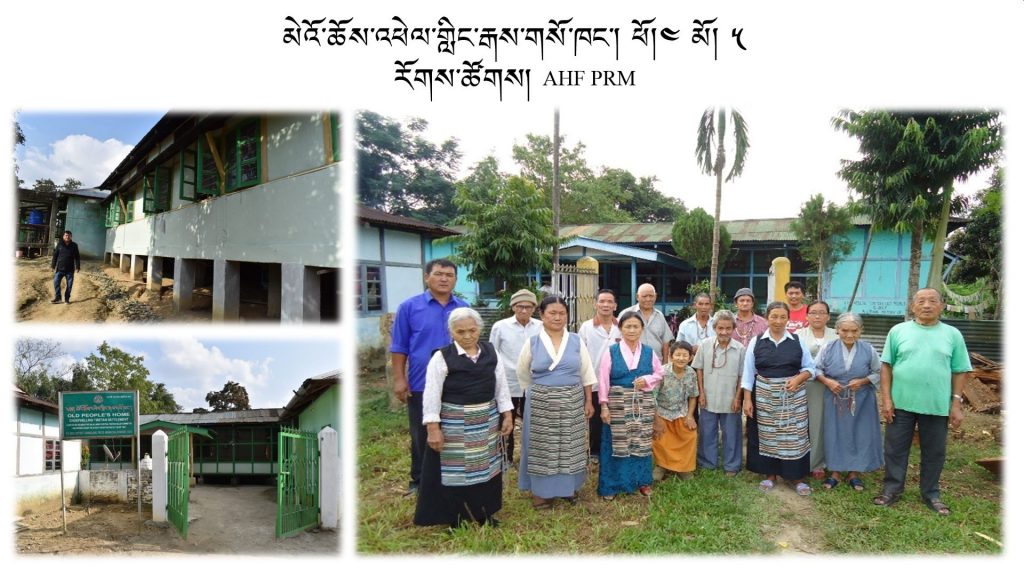 Old People's Home (OPH)
There are 14 Old Peoples Home, scattered in India and Nepal under direct control of CTRC. We look after these Old Peoples Home and help them in meeting their running expenses by finding sponsors for the elders and seeking donations for these OPH.
The list of 14 OPH under direct CTRC / Department of Home's control are as under:
SNo:
Old People's Home
(OPH) Name
Establishment
Year
Location
(Indian State)
1.
Doeguling Old Peoples Home, Mundgod
1971
Karnataka State
2.
Phuntsokling Old Peoples Home, Odisha
1976
Odisha
3.
Herbertpur Old Peoples Home, Herbertpur
1977
Uttarakhand
4.
Jampaling Old Peoples Home, Dharamshala
1992
Himachal Pradesh
5.
Phendeling Old Peoples Home, Mainpat
1994
Chattisgarh
6.
Rabgyeling Old Peoples Home, Hunsur
1995
Karnataka State
7.
Lugsung Samdupling Old Peoples Home, B'kuppe
1998
Karnataka State
8.
Norgyeling Old Peoples Home, Bandhara
1999
Maharashtra
9.
Dhondenling Old Peoples Home, Kollegal
2000
Karnataka State
10.
Dhargyeling Old Peoples Home, Tezu
2001
Arunachal Pradesh
11.
Chephelling Old Peoples Home, Miao
2001
Arunachal Pradesh
12.
Tsering Old Peoples Home, Nepal
2003
[ NEPAL ]
13.
Chauntra Old Peoples Home, Bir
2012
Himachal Pradesh
14.
Youlokoe Old Peoples Home, Kalimpong
2012
West Bengal
There are total 905 vacancies but currently there are only about 596 old people living in these OPH.
S T I P E N D S
DESTITUTE ELDERS
₹ 1,000.00 pm for Family
₹ 1,500.00 pm for Singles
EX-ARMY DESTITUTE
₹ 1,000.00 pm for those who hasn't received Lump sum.
₹ 1,300.00 pm for those who had received Lump sum.
MEDICAL CARE
Elders in the 14 OPH under DoH are being provided with Medical Care
Increase in stipend rate amended for the single destitute fixed in 2017
| | | | |
| --- | --- | --- | --- |
| Sr.No | Age-limit | Increased stipend pm | Annual stipend received |
| 1 | 60 – 64 years | 1,500.00 | 18,000 |
| 2 | 65 – 70 years | 2,000.00 | 24,000 |
| 3 | 71 – 75 years | 2,500.00 | 30,000 |
| 4 | 76 – 80 years | 3,000.00 | 36,000 |
| 5 | 81 – 85 years | 5,000.00 | 42,000 |
| 6 | 86 – 90 years | 6,000.00 | 48,000 |
| 7 | above 90 years | 7,000.00 | 54,000 |
| | Total amount | | ₹ 2,52,000 |
Other Roles & Responsibilities of Welfare Section are:
Compiling & submission of Annual Report to the Administration section for their further submission to Tibetan Parliamentary secretariat.
Answering questions and queries from the Tibetan Parliament based on the annual reports submitted and other queries from their official visit to Tibetan settlements.
To follow up with the reports brought up by Sikyong and Kalons during their official visit(s) to the Tibetan settlement(s).
Preparation of Fiscal Budget and obtaining its approval from the Tibetan Parliamentary secretariat.
Raising fund for the Elder care homes such as food, medication and other related necessities.
To maintain updated database of destitute families falling under above mentioned 3 categories.
Submission of quarterly, half-yearly and annual report to the donors regarding the usage of their fund.
Working in coordination with all the Tibetan settlements in India, Nepal and Bhutan.
Appointment of competent and appropriate staff for Elder Care Homes to take care of elder residents therein.
Reception and hospitality of the donor during their visit to Dharamshala.
Collection of Newsletter and Christmas Greetings every year from the beneficiary elders and sending them to their respective donors (sponsors). We consider it the utmost importance to maintain a lasting and warm rapport between the sponsor and the beneficiary.
II – YOUTH EMPOWERMENT SUPPORT (YES) Section
Various skill training are provided to 100-110 unemployed and school drop-out youths every year in an average of 2 batches. The training opportunity is open to all the Tibetan Settlements in India. The duration of the training varies from minimum of 3 months to maximum of 12 months depending on the time and requirements of an individual course/skill. Announcement for new application is made through all the Tibetan settlements in India and all the application are required to be received through them only. We don't entertain any direct or … read more »
III – WOMEN'S EMPOWERMENT DESK Section
This section was initiated by Department of Finance in 2006 under the 13th Kashag's Policy. Later on the Department of Finance handed over the project to Department of Home on 01-Apr-2014 and since then have been continued by Department of Home. [ Handed over back to Department of Finance from 01-Apr-2017 ]
Aims and Objectives:
To work for the upliftment of Tibetan Women's status in Tibetan Society.
To work towards increasing women's participation in the leadership both in quality & quantity.
To work towards bringing economic empowerment through facilitating economic opportunities.
To work towards making Sexual-Assault-Free Tibetan Society.
To work towards improvement of Educational as well Health quality of Tibetan lay women and nuns.

Some of the Women's Desk materials published.

---
IV – CATHOLIC RELIEF SERVICE (CRS) Section
Catholic Relief Services was founded in 1943 by the Catholic Bishops of the United States of America to assist the poor and disadvantaged outside the country. It is administered by a Board of Bishops and lay people, and is staffed by men and women committed to the Catholic Church's apostolate of helping those in need. It maintains strict standards of efficiency and accountability. Donation of US people to poor and needy in cash are being used to purchase food commodities by USAID (United States Agency for International Development). The food commodities that we received are requisitioned by CRS.
CRS came to India through Indo – US bilateral agreement in the year 1951 with opening of four zonal offices (1. Lucknow, 2. Kolkata, 3. Mumbai and 4. Hyderabad). The regional office has been stationed at New Delhi. CRS works in partnership with other developmental organization which are referred to as Counterpart Organization (CPO). CPO in turn works with several other NGO's which are referred to as Operating Partners Organization (OPO). Before entering into partnership, all the parties need to reach an agreement. The agreement between CRS and CPO is called CRS-CPO agreement and the agreement between CPO and OPO is called CPO-OPO agreement.
His Holiness the Dalai Lama's Central Tibetan Relief Committee (CTRC) is one of the CPO who has entered into an agreement with CRS and has about 50 OPO's presently operating under it. These OPO include schools, monasteries, nunneries, settlements, OPHs (old people's home) and others. The programs (Title – II) covered under the OPOs are Nursery and Creche (NC), School Feeding (SF), Residential Institution (RI / BP) and Individual Health Care (IHC). The total number of beneficiaries for all the above – mentioned programs for the fiscal year 2009 is 13,032.
Note: This program which immensely helped Tibetan Refugees in time of great difficulties for a very long time finally came to end from 30 Sep, 2011.