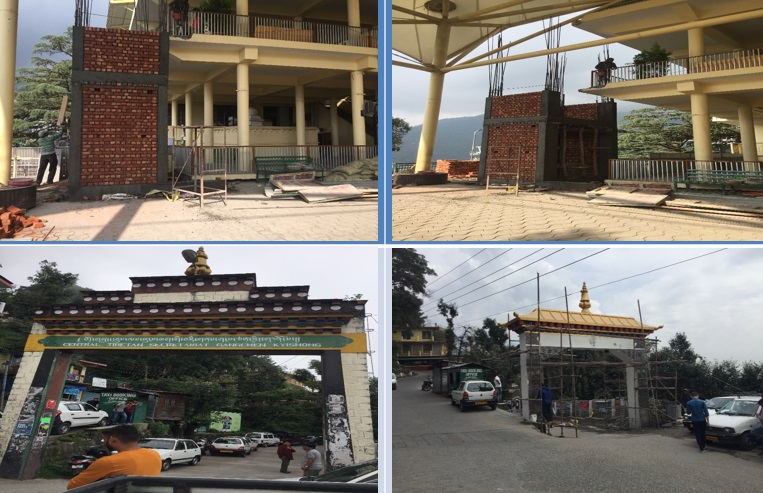 INTRODUCTION: In 1967 this section was under the Security Department and named as House & Works Department in Gangchen Kyisong, Dharamsala. Later in 1982, this section was transferred to Public Service Management to look after the Welfare of the CTA staffs. Since 1998, Housing & Estate unit was run under the Department of Home, CTA.
Presently there are three staff under this section out of which there is one section head and two subordinate staff.
Role & Responsibilities of Housing & Estate Unit
To supervise the land & buildings of CTA, Dharamsala (H.P.).
Mutation of CTA land in the name of His Holiness the Dalai Lama's Central Tibetan Relief Committee (CTRC).
To deposit Land & House Tax of CTA to the Municipal Cooperation, Dharamsala (H.P.) annually.
To collect and deposit electricity bills of CTA's Departments and staff quarters to HPSEB Dharamsala (HP).
Distribution of furniture to CTA staff as per allotment and needs.
To look after the Construction works of CTA:

To Obtain permission from all the related Indian departments like Town & Country Planning Department, HPSEB etc. at Dharamshala (H.P.),
To Tender call, prepare agreement with contractor,
To maintain accounts and submission of Budget of construction works.

To maintain and renovation of CTA staff Quarters and street lights.
Arrangement of Staff & Retired quarters distribution committee meeting by our Unit.
Arrangement of rooms for Chitue (MP) and Press reporters during the parliament session at Dharamsala (HP).
Appointment of Gangkyi Secretariat area night watchmen by the Committee.
Arrangement of retired staff quarters or lumpsum payment for renovation for owned house of retired CTA staffs.