Since major part of the Tibetan population are settled in 12 Agricultural based settlements in India, keeping in view the proper usage of these agricultural land and to avoid issue of encroachment by local Indians, Tibetan farmers are being encouraged for intensive farming. In order to check the reducing trend of farming in these settlements, Department of Home through the Agriculture section is providing necessary assistance in terms of machineries, inputs and cattle. The proposed guideline to give away the "Best Farmer" and "Best Young Farmer" award was approved by the 15th Kashag on 30th November, 2020 to encourage and attract Tibetan youngsters into farming as a profession. The awards have been named as "Yarlung Sothang Life Time Farmers Achievement Award".
Local selection committee at the settlement level nominate a list of farmers which is further reviewed in detail by the central award committee of Home Department who then selects the Best Farmer and Young Best farmer's award of 2019 on the basis of farming output of the said year.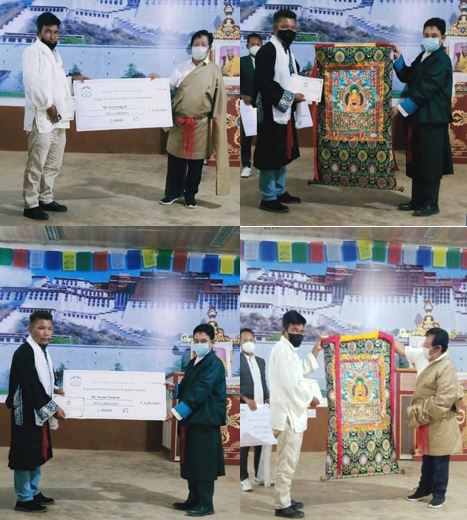 This year we had a tie for the best farmer award candidate between Mr. Wangyal Wangra from Lugsung Samdupling Tibetan settlement, Bylakuppe and Mr. Tashi Topgyal from Phendeling Tibetan settlement, Mainpar. The best young farmer was awarded to Mr. Tenzin Namjom from Phendeling Tibetan settlement, Mainpat. Each of them were honored with Rs. 100,000/- (Rupees One Lakh),along with a certificate and a Thangka (Tibetan traditional painting scroll) as a token of recognition on 2nd September 2020 during the Tibetan Democracy Day.
This is the second year the Department has given such awards to the Tibetan farmers. Initially, the awards were to be given at Dharamsala on this auspicious day but due to the present situation of COVID-19 pandemic and the restriction of movement, it has been decided to give the award in their respective settlements by the Settlement Officer.
Report filed by Agriculture section, Department of Home