On 5th April 2021, Home Kalon Sonam Topgyal Khorlatsang arrived to a warm welcome from the Chief Representative Officer Mr. Tseten Wangchuk along with the MP Dhondup Tashi and other local dignitaries.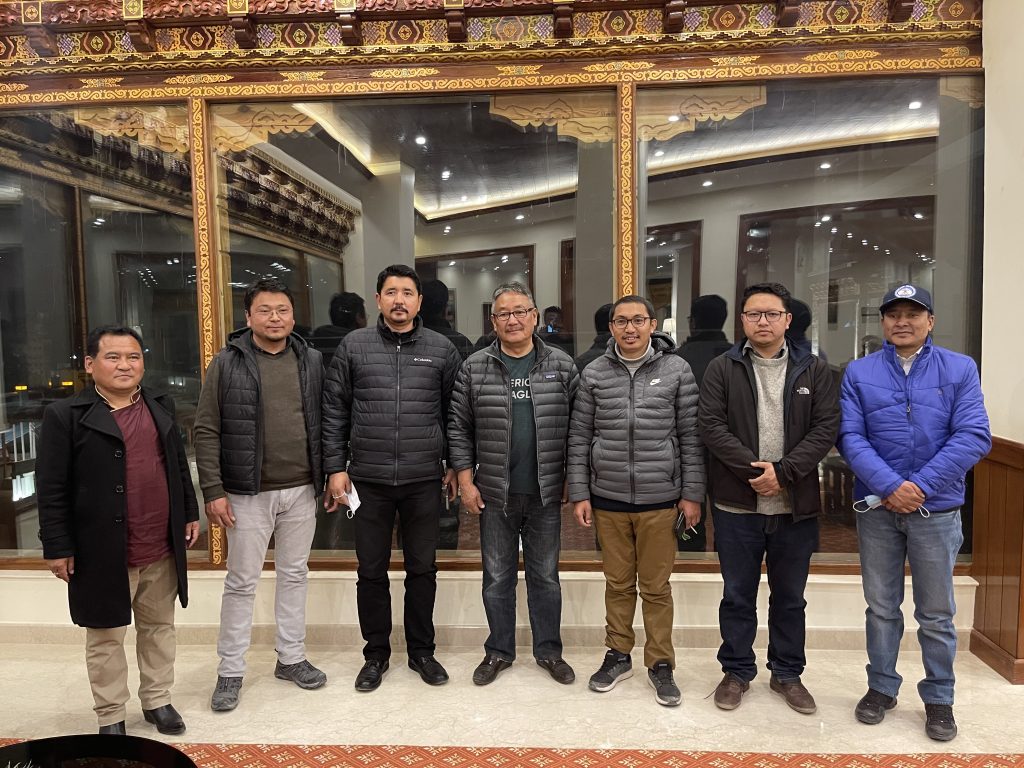 On the first day of the visit, Kalon inaugurated the new land allotted to the Tibetan residents of Maque and Chushul where he addressed the public followed by a lunch arranged by the Maque and Chushul public. The Dinner was arranged by Chief Representative Office at Hotel Grand Dragon in the presence of Shri Tashi Gyalson,CEC of LAHDC Leh, Shri Tsering Angchuk, Deputy CEC of LAHDC Leh, Shri Jamyang Tsering Namgyal, MP and other Executive Councillors.
On the following day, Kalon inaugurated the new Chief Representative Office, Ladakh to a warm greeting from the public and thereafter, he addressed the local Tibetan dignitaries during the inaugural function of the Conference hall of the Chief Representative Office.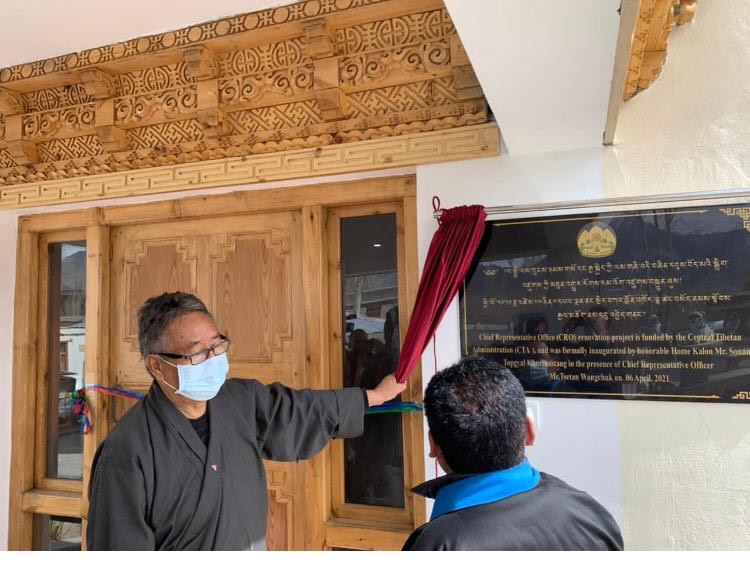 Soon after, the Tibetan Taxi Association organised a function chaired by Chief Guest Shri Tashi Gyalson la, Chief Executive Councillor of Ladakh Autonomous Hill Development Council Leh and guest of honour Shri Dorjay Wangchuk, President of All Ladakh Transport Association along with special guest Kalon. CRO then apprised the Chairman of LAHDC Leh of the problems faced by the Tibetan taxi drivers in Leh especially in purchasing taxis on the basis of the Registration Certificate mentioned in the Tibetan Rehabilitation Policy 2014. He further requested CEC Tashi Gyalson to implement a rehabilitation policy for the Tibetans residing in Leh for their benefit. Thereafter, President of ALTA, Dorjay Angchuk shared his experiences and assured to discuss and resolve all the genuine problems faced by Tibetan taxi drivers very soon. Addressing the gathering, CEC Tashi Gyalson assured to assist and take up their concerns with the higher authorities for early redressal. Speaking during the meeting, Kalon expressed his gratitude on behalf of CTA to the Hill Council Leh for extending their gracious help in the uplifting and supporting the Tibetan community in Ladakh. The lunch was served at Hotel Abduz arranged by Tibetan Taxi Association.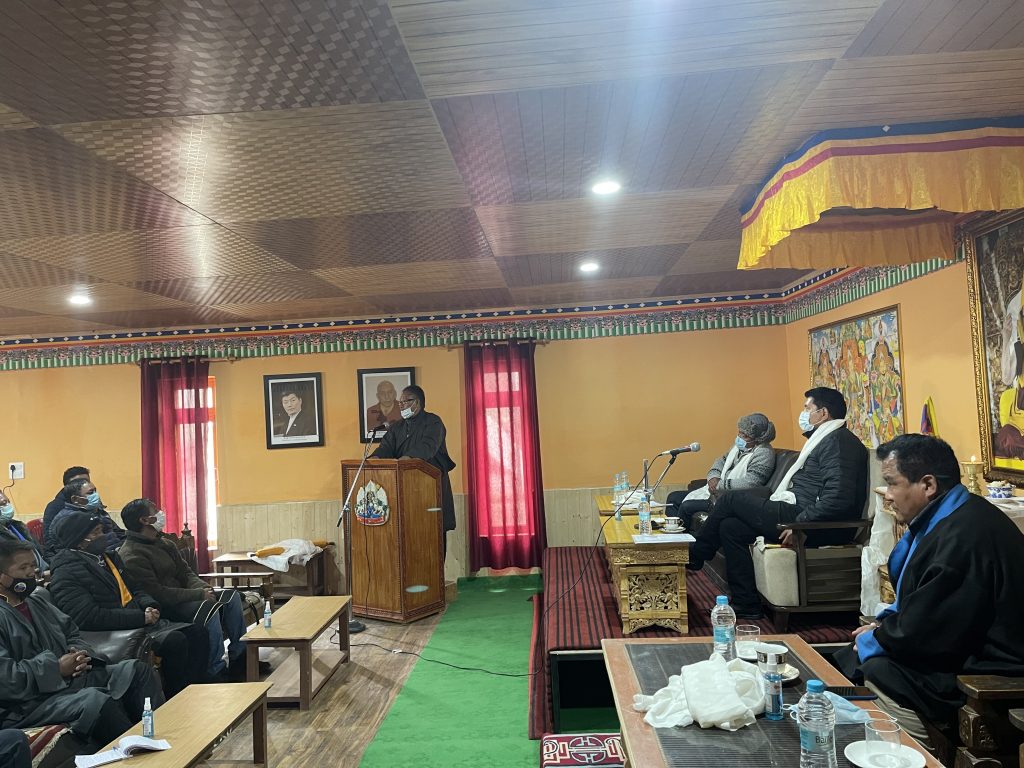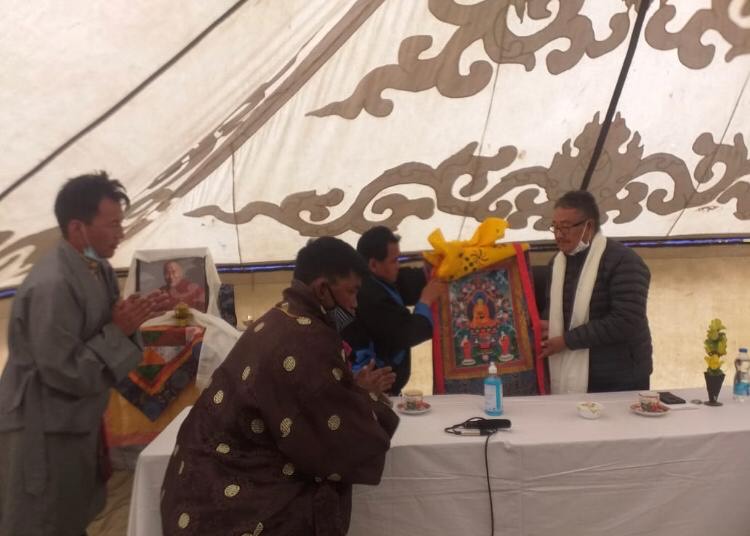 After lunch, a public gathering was held where the CRO gave a warm welcome speech followed by Kalon presenting traditional scarfs to the twelve new camp leaders. CRO then presented a memento to Kalon as a token of gratitude on behalf of the people of Tibetans residing in Ladakh and CRO. Finally, Kalon addressed the audience. Farewell dinner was arranged for the Kalon in the presence of other local ladakhi dignitaries: President of All Ladakh Buddhist Association, Vice-President of All Ladakh Buddhist Association, Former CEC Shri Gyal P Wangyal, Former Deputy CEC Shri Samdup, Executive Director of Leh Nutrition Project etc. 
Kalon left for Bengaluru via New Delhi the following day.