INTRODUCTION:
The shops and guest room project at Bir Tibetan Society was approved and funded by the Central Tibetan Administration under the vision of 15th Kashag's to promote viable businesses in order to positively impact the socio-economic self-reliance of the communities, settlement offices, organization through Public-Private-Partnership programs.
The total budget approved for the project: 11,137,550.00 (One Crore Eleven lakh Thirty seven thousand Five hundred Fifty Only)
The actual construction work started on 21st March, 2023 as per agreement with the contractor. Before the work monks from Diru Monastery performed rituals at the site. And the Excavation work began on 21st after the Ritual.
The construction project has made significant progress with a variety of tasks completed. The initial groundwork, including excavation, pillar erection, and plinth beam work has been successfully finished. On the ground floor, masonry work has been completed along with the construction of plum walls and stone walls. The momentum continues on the first floor, where masonry work has also been finalized. The first floor slab spanning has been successfully laid. Furthermore, two septic tanks have been excavated in front of the shop, with the construction of RCC walls and plum walls completed. Ground floor shop plastering is also done. Progress on the first floor includes the completion of windows and doors fitting, as well as the installation of shutters for the shops. Currently, work is ongoing on the second floor, involving the erection of RCC pillar and ongoing masonry task.
OVERVIEW OF THE WORK COMPLETED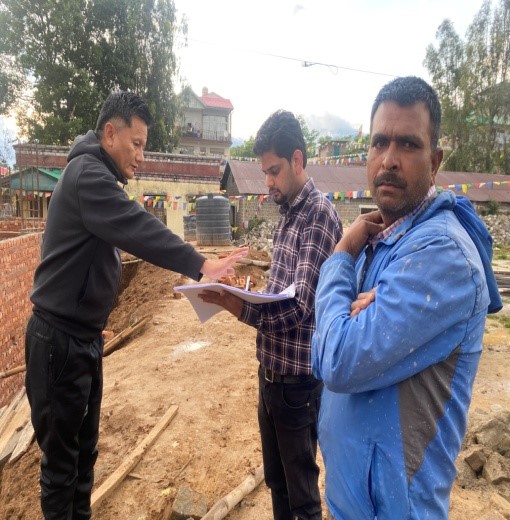 Work to do
The masonry work for the second floor has not yet been initiated. On the first floor, there is a need to fit doors and windows. And shuttering work and lentil installation is yet to complete. The construction of stairs, both for the main entry and interior, has not yet been addressed with several task including tile installation, electrical point setup, plumbing work, and installations, are still pending. The project also requires the completion of painting and plastering work. Roof sheet work has yet to be undertaken, and the fitting of glass for the windows remains to be done.