Mrs. Tenzin and Mrs. Dawa Dolma were selected for Youth Empowerment Award. They were felicitated with a Tibetan traditional scarf, certificate and a cheque of INR 35,000 during the official function marking 62nd Tibetan Democracy day on 2nd September 2022.
Brief Introduction:
1) Mrs. Tenzin hails from Dingri Langkhor, Tibet and escaped to India in 2013. Currently she lives in Mcleodganj, Dharamsala (HP). She graduated 12th standard from TCV Suja School based in Bir. After completing Diploma course in Bakery & Confectionery from Tibetan Private Industrial Training Institute (ITI) at Selaqui, Dehradun followed by 6-month internship done at Trident Hotel, Jaipur, she started working at Pema Thang Hotel and Woeser Bakery shop based in Dharamsala for almost one year. Since 2018, she has been running her own Bakery & Confectionery shop known as 'Tenzin Kitchen Cafe' shop near Tashi Choeling, Jogiwara Road, Mcleodganj, Dharamsala. Different kinds of beverages, cuisine and laphing are also served in her café. At present, there are three Tibetan youths who are being employed in her café, and while her business, she has also been teaching Tibetans & non-Tibetan people the production of bakery, cake, pizza and laphing at free of cost.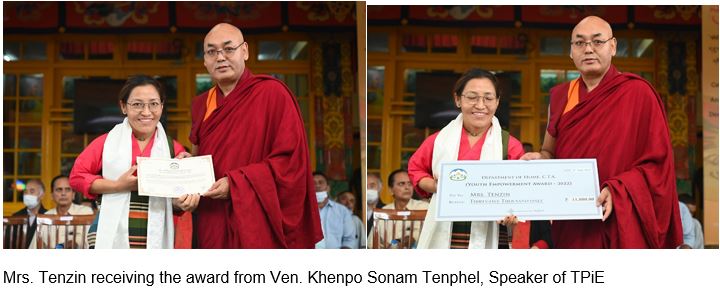 She was felicitated with an award during the official function at Tsuglakhang Temple, Mcleodganj, Dharamsala (HP).
2) Mrs. Dawa Dolma escaped from Kongpo, Tibet to India in 1992. Currently she lives with her husband in Lugsung Samdupling Tibetan Settlement, Bylakuppe. She did her schooling from CST Tezu and Dalhousie till 10th class. In 2007, she completed Beautician course specializing in Hair & Skin Care at Tibetan Private Industrial Training Institute (ITI) at Selaqui.   After that, she started working in various beauty & hair salon in Goa for almost three years. She had also provided door to door service in the community for almost a year. Since 2012, she has been running her own Beauty parlour known as 'Dawa's Beauty Care' in Goa where she not only deals in commercial activities but provides post training internship and job opportunity to the young Tibetan girls who completed their skills training from ITI, Selaqui. She also provides training in her workplace and assists job placement in other job avenues. Currently she employed 4 Tibetan girls and 2 Indian local girls whom she facilitated them with all the expenses incurred for residence, food, water & electricity bills.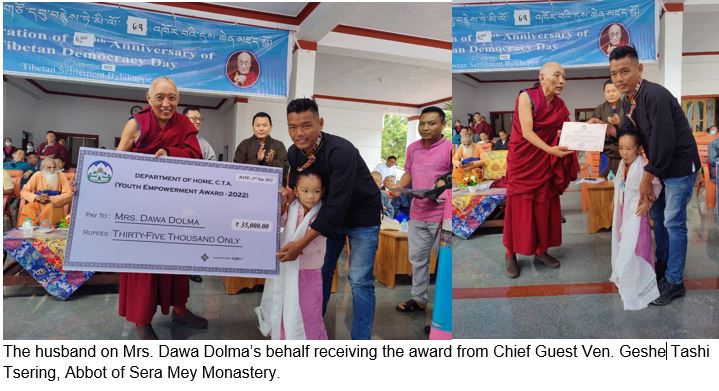 Due to her flight from Goa to Mysore being cancelled at last moment, her husband & daughter on her behalf received an award at the official function in Lugsam Tibetan Settlement, Bylakuppe, Karnataka State.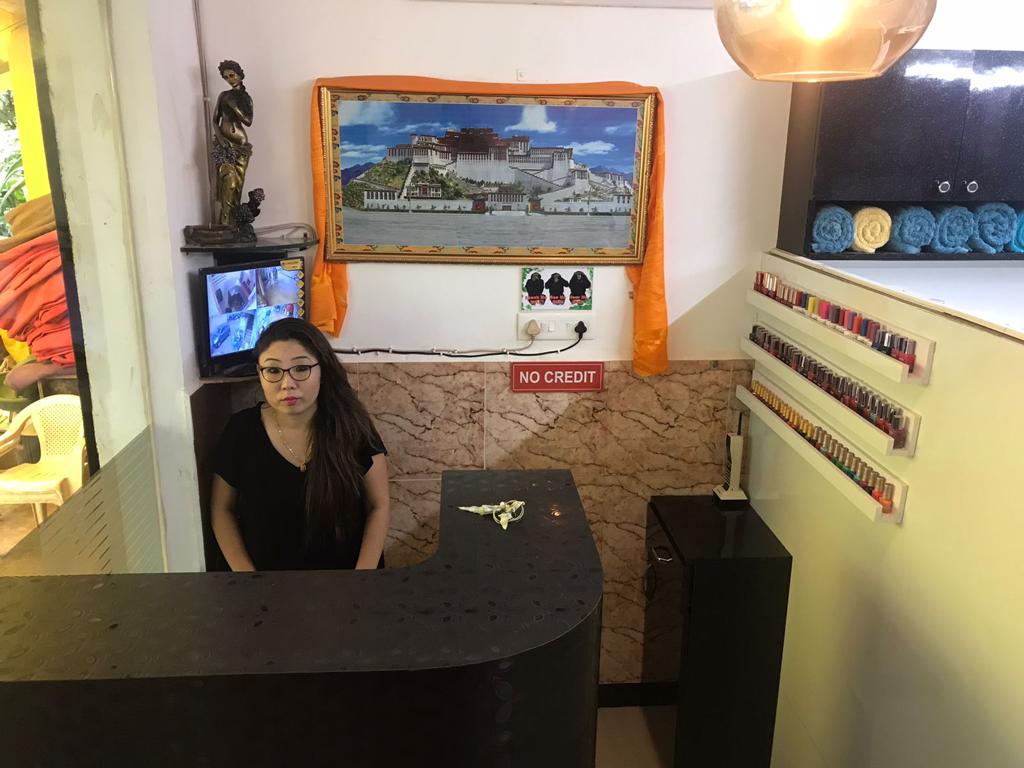 Introduction of Youth Empowerment Award:
The award is an initiative of Youth Empowerment Support (YES) section of Department of Home, CTA and is designed to promote self-reliance through vocational education and encourage youth to become a contributing member of the community by starting a business.
The program will recognize two individual every year who have not only become self-reliant but are also contributing to the overall development of the community. It will recognize the exemplary youth who are currently self-employed after completing vocational education from any training institute and who has been running the business for min. two years & willing to continue the same.
The selected individual will be felicitated at the official function of the Tibetan Democracy Day on 2nd September at Dharamsala. Every year the announcement is made through the settlement office and official media outlets. The applicant shortlisted by each settlement will be scrutinized at the head office and final two recipient will be selected by the Central committee.
The program was funded by Verein TibetFreunde – Swiss Foundation.