The counselling cum job placement cell of TCC has been attending the queries of the Tibetan youth via phone calls and the official social media sites. The section spearheaded by the Head Consultant, Ms. Tenzin Choezin has also broadcasted a live-streaming on" Scholarship for college-going students" in collaboration with Global Tibetan Students Union (GTSU), represented by Ms. Tenzin Palkyi, B.A journalism & Psychology. The video was later shared on Facebook, Instagram and YouTube. Counsellor Ms Jigme Lhamo made a separate tutorial video on "Interview skills" as a part of Employability Skills Development (EST) training and it has been released on various social media sites.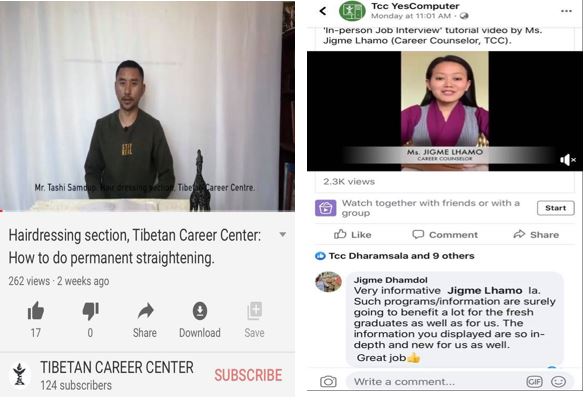 TCC's former counsellor Ms Jigme Dhamdol commented on TCC Facebook post "Such programs are surely going to benefit a lot for the fresh graduates and as well for us. The information you displayed are so in depth and very informative."-
The Mentoring program, on the other hand has been continuing its mentoring services for the registered mentees out of which 2 has opted to apply for skills training scholarship to Industrial Training Institute (ITI), Selakui via program of Youth Empowerment Support (YES). Another mentee has opted to take up Buddhist Philosophy training as guided by the Mentor, Mr. Topgyal and the other three are under-going follow up sessions including Psychological test and personal interview with the Mentor.The Hair Dressing Section has also been leading virtual training sessions for the on-going batch, and the trainer has been preparing a short tutorial video on 'Hair Wash" which has already been released in social media channels of TCC.
Meanwhile, the computer section has already released 7 tutorial videos on "Adobe Photoshop' and "Adobe illustrator' in TCC's official YouTube channel and has been shared on other social media sites as well. The Trainer, Ms. Tsering Choezom has also led virtual computer classes for 2 trainees on WhatsApp via audio and video messages. A viewer on YouTube wrote: "Thank you, it is indeed very helpful to me and definitely for others."
The Centre has also been involved in the preparation related to virtual tally tutorials which has been released on YouTube and alike.The tally tutorials was released from 1st June, 2020 and one tutorial video will be released on a daily bases for 20 days. TCC has been planning on further extending the virtual programs in the months ahead while physical distancing is prioritised for safety preventive measures.More live streaming on Youth Motivational Talk and Career Awareness Program will be released in the month of June, 2020 for Tibetan youth to help them in their career development.