21st October 2022, Bylakuppe; More than six decades ago, from a king alike to a refugee stranger who had lost everything to a powerful aggressor, started from ultimate hopelessness – His Holiness the Dalai Lama – what he didn't loose was his courage of conviction about the Buddha Way. One may laments here that the first three decades of exile were spent in living with benign neglect whereas the last three decades have been lived with celebration of Buddhist teachings and practices. In par with His Holiness the Dalai Lama's farsighted vision and amongst his four objectives – to preserve ancient Nalanda's Buddhist values and education which remains the lifeline of Tibetan heritage that was unfortunately and drastically brought down to ashes and disappearance inside Tibet by Chinese Communist People's Liberation Army was then saw the re-emergence of its roots, infrastructure and its practices in India.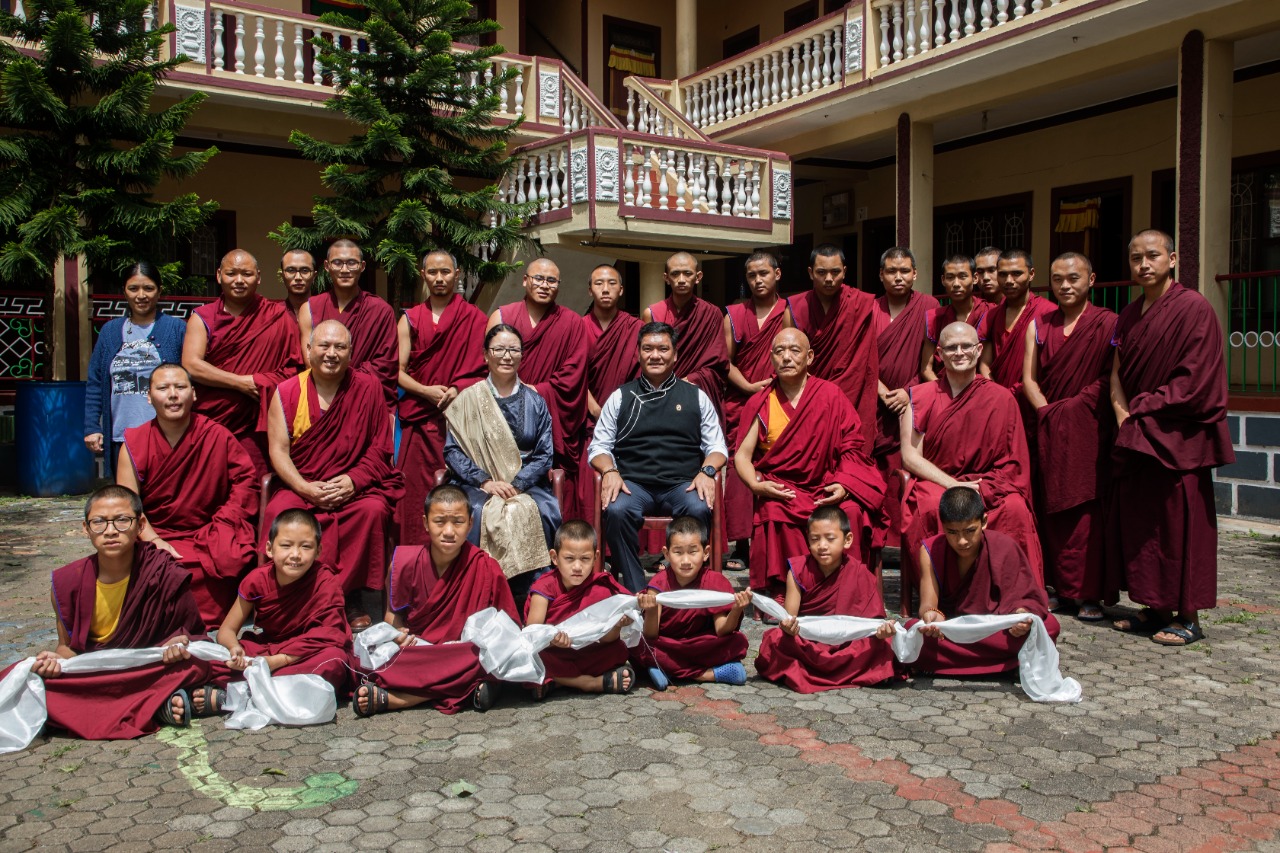 Towards this end, Sera Jey Monastery one of the eminent monastic university of Tibetan Buddhist heritage now reestablished inside India at Bylakuppe Tibetan Settlement, Mysuru, Karnataka was seen witnessing on this day the introduction of Specialized Program of BA Honors in three disciplines – i) Ancient Tibetan Language, ii) Ancient Philosophy, iii) Ancient Psychology – under the recognition of University of Mysuru.
To grace this occasion, Hon'ble Chief Minister of Arunachal Pradesh, Sh. Pema Khandu; Smt. Rinchen Lhamo, Member, National Commission for Minorities, Govt. of India; Prof. G. Hemantha Kumar; Maharaja of Mysuru, H.E. Yaduveer Krishnadatta Chamaraja Wadiyar were presented at the August event.
Abbot of Sera Jey, Ven. Geshe Lharampa, Tashi  Tsethar welcomed the gathering and distinguished guests while presenting his opening remarks.
Being the Chief Guest, Hon'ble CM of Arunachal Pradesh while addressing the event, he lamented upon the relevance and significance of Nalanda's Buddhist knowledge and wisdom that can show path in finding solutions to ever evolving crisis of individual, community and states. He expressed his pride and honor to be part of this historic event that shall benefit all these Buddhist learning students especially monks who undergoes numerous challenges and hardships to reach these centers of learning. While offering homage to His Holiness the 14th Dalai Lama, he expressed his deep faith and gratitude in not only safeguarding the Buddhist Values and Teachings but also emphasizing upon warmheartedness and mutual respect amongst all the different faiths. He especially thanked the Government and People of Karnataka who had exceptionally taken cared of these existent Buddhist centers of learning and practices.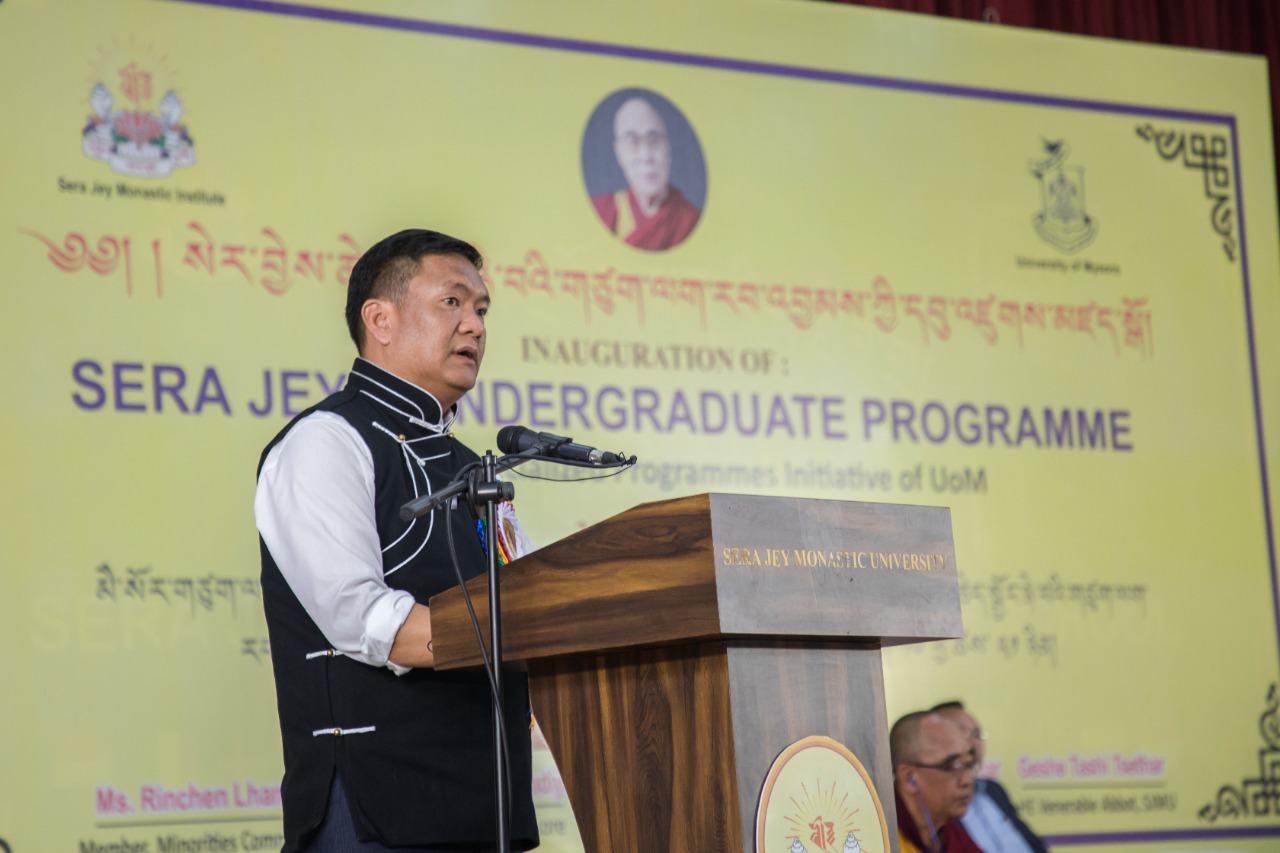 Smt. Rinchen Lhamo, Member of National Commission for Minorities, Govt. of India – being the Guest of Honor, in her address, she expressed her satisfaction in becoming the part of this event yet this is only the beginning as more needs to be done for Geshes, Khempos and Lamas who undergo years of these learning but seldom gets any recognition in the formal academic institutions.
Prof. G. Hemantha Kumar, VC, University of Mysuru, expressed his happiness of opening of the special program of BA Honors with Sera Jey Monastery while sharing the ancient roots and existent faculties of University of Mysuru.
Maharaja of Mysuru, H.E Yaduveer Krishnadatta Chamaraja Wadiyar – being the Special Guest, shared in his address about the grandfather and great grandfather who had sown the seed of University of Mysuru during British rule and its legacies thereafter. He presented his good wishes for more of these accomplishments that can relay the coherence of people of India particularly Karnataka who have wholeheartedly embraced the Tibetan people and its culture.
In addition to this, on the morning of 21st October, Hon'ble CM of AP, Sh. Pema Khandu and Smt. Rinchen Lhamo, Member, National Commission for Minorities, Govt. of India also attended the Silver Jubilee Celebration event of Sera Jey School's affiliation under CBSE.
As organized by Sera Jey Monastery, the event began and concluded successfully. Other than those dignitaries, a galaxy of other distinguished guest from numerous institutions, organizations and communities also witnessed the occasion including former Ministers of Central Tibetan Administration.
While visiting Bylakuppe, one of the earliest and biggest Tibetan Settlements, Hon'ble CM of Arunachal Pradesh, Sh. Pema Khandu, even in his short stay didn't missed the opportunity of visiting Sera Mey Monastery, Sera Lachi Monastery and Namdrolling Monastery.
Jigmey Tsultrim, CRO, South Zone accompanied the Hon'ble CM of Arunachal Pradesh, Sh. Pema Khandu during this two days visit to South India. At the juncture of departure from Bengaluru for Itanagar via Guwahati,  while expressing the privilege of being part of this visit CRO presented the good wishes of CTA and its people and continuation of such visit to other Tibetan Settlements that may encourage their sustainability.